Upcoming Events
Check out this video to see Girl Power events and groups who have enjoyed this incredible program!
Girl Power is a program that encourages girls to feel strong and empowered, self-confident and independent, healthy and beautiful! Girl Power combines age-appropriate fitness and life skills with confidence building exercises that are fun and thought provoking.
Contact us to bring Girl Power Go to your area!
March Events & News:
Wednesday, March 21st, 11 am
Girl Power Go Rockstar Webinar
Register now for this incredible webinar that is helping thousands of adults empower the girls in their lives. This webinar is FREE and give some of Girl Power Go's best proven practices and strategies for empowering and supporting girls ages 8 to 12 years old. These lessons are beneficial for all genders and all ages. Plan to join us. You must register in advance.


Thursday, March 22nd
Empowering Women in Business Conference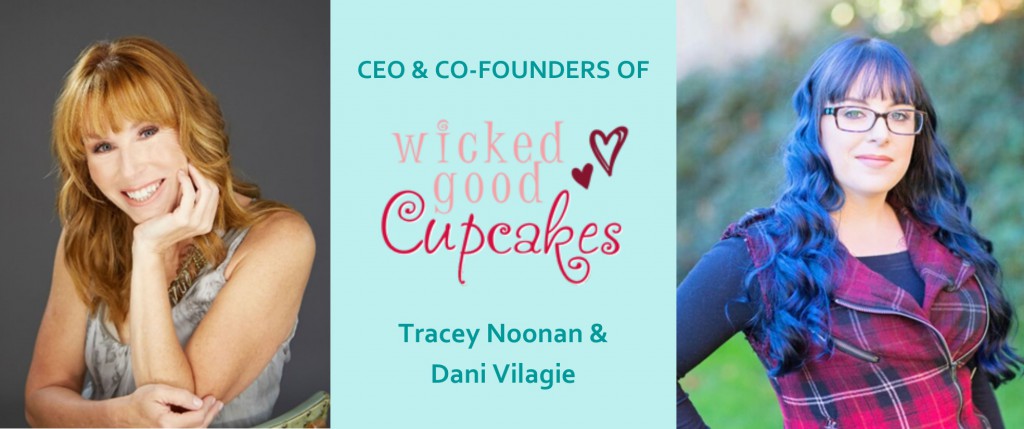 Girl Power Go is excited to be involved in the Empowering Women in Business Conference at Nichols College on Thursday, March 22nd. Registration is open but filling up quickly. Erin will be presenting at the conference with other incredible women. Girl Power Go will also have a vendor table to share our mission and message to empower girls and women everywhere! We would love to see you there!


NEW DATE! March 24th
Driven by Vision one day retreat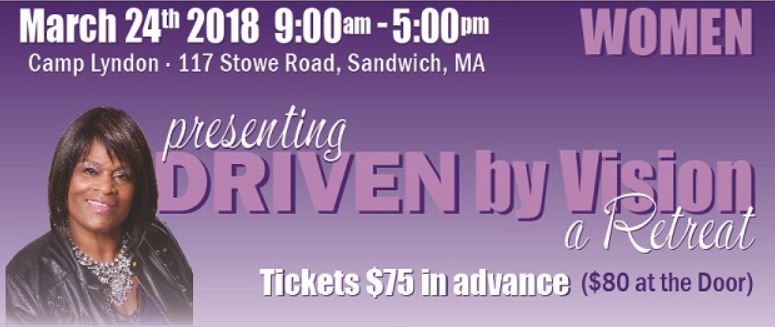 Driven by Vision one day retreat was reschedule because Mother Nature had other plans on March 3rd. Even Mother Nature can't stop Driven Women! We are thrilled to have a new date that will empower, educate and inspire. We will meet in Sandwich, MA and begin this incredible day at 9:00 am. Space is limited and this event is filling up fast!


Monday, March 26th
GPG 8-week session for 4th - 7th grade girls
Hockomock YMCA and Girl Power Go are collaborating and bringing he GPG 8-week session for 4th - 7th grade girls to Bellingham!This session begins on Monday, March 26th. This class will meet every Monday for 8-weeks at Bellingham Middle School from 2:20pm to 3:05pm. Class Dates are, March 26th, April 2nd, April 9th, 23rd, 30th, May 7th, 14th and 21st. Class Instructors Erin Mahoney and Ann Masse.



8-week programs in Franklin, Foxboro & North Attleboro
In addition to Bellingham Girl Power Go is thrilled to be offering our full 8 week programs in the Hockomock YMCA branches in Franklin, Foxboro and North Attleboro. We continue to widen our reach to connect, inspire, educate and empower more girls. Registration for these 8-week sessions will open on March 27th.

Multilple age groups, days and times are being offered in each location. We can't wait to kick off our programs in these communities! Classes begin the week of April 23rd but will sell out so please register early!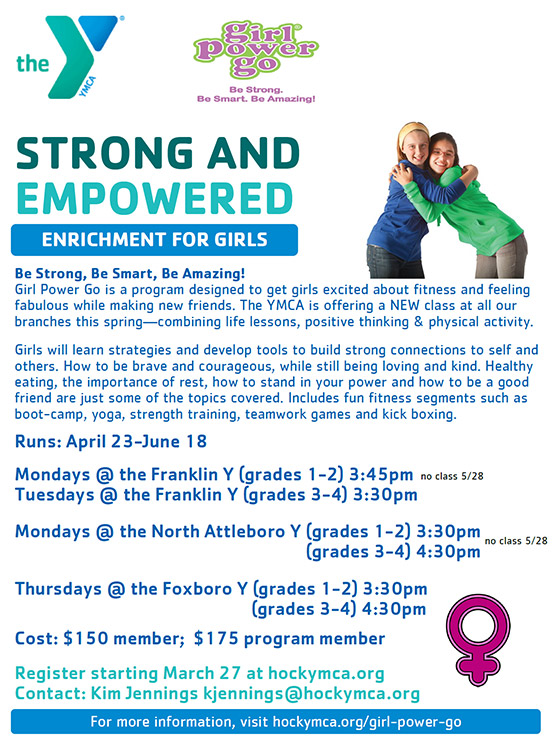 The Hockomock YMCA and Girl Power Go Unite to Empower more girls!
NEW CLASSES coming the week of February 26th serving girls grades 1 through 6! Calling all Girls in Bellingham, Foxboro, Franklin and North Attleboro, we are coming to your town! We are over the moon excited to have classes starting in multiple locations and multiple towns in collaboration with the Hockomock YMCA. 6 and 7-week Girl Power Go sessions kick off right after winter break. Registration is open now! Check out the schedule and register through the branch in your area.
Bellingham at Memorial Middle School
130 Blackstone Street, Bellingham, MA
Monday afternoons, February 26th, March 5th, 12th, 19th, 26th, April 2nd and 9th.
Instructors, Erin Mahoney and Ann Masse
Grades 4th and 5th – 2:20 to 3:05pm
*We plan to run our GPG program for grades 6 & 7 in the next session
North Attleboro Hockomock YMCA Branch
Tuesday afternoons, February 27th, March 6th, 15th, 20th, 27th, April 3rd and 10th.
Instructors, Erin Mahoney and Emily Goodwin
Class 1 - Grades 1 and 2 - 3:30 to 4:30pm
Class 2 – Grades 3 and 4 - 4:30 to 5:30pm
Franklin Hockomock YMCA Branch
Monday afternoons, February 26th, March 5th, 12th, 19th, 26th, April 2nd and 9th.
Instructors, Erin Mahoney and Ann Masse
Grades 1-3 - 3:45 to 4:45pm

Tuesday afternoons, February 27th, March 6th, 15th, 20th, 27th, April 3rd and 10th.
Instructor, Kelly Kielty
Grades 4, 5 and 6 – 3:30 to 4:30pm
Foxboro Hockomock YMCA Branch
Thursday afternoons, March 1st, 8th, 15th, 29th, April 5th and 12th.
Instructors, Erin Mahoney and Jessica Casasanta
Grades 1 and 2 – 3:30 to 4:30pm
Grades 3 and 4 – 4:30 to 5:30pm