Upcoming Events
Check out this video to see Girl Power events and groups who have enjoyed this incredible program!
Girl Power is a program that encourages girls to feel strong and empowered, self-confident and independent, healthy and beautiful! Girl Power combines age-appropriate fitness and life skills with confidence building exercises that are fun and thought provoking.
Contact us to bring Girl Power Go to your area!
Events & News:

8-week programs in Franklin, Foxboro & North Attleboro
In addition to Bellingham Girl Power Go is thrilled to be offering our full 8 week programs in the Hockomock YMCA branches in Franklin, Foxboro and North Attleboro. We continue to widen our reach to connect, inspire, educate and empower more girls. Registration for these 8-week sessions will open on March 27th.

Multilple age groups, days and times are being offered in each location. We can't wait to kick off our programs in these communities! Classes begin the week of April 23rd but will sell out so please register early!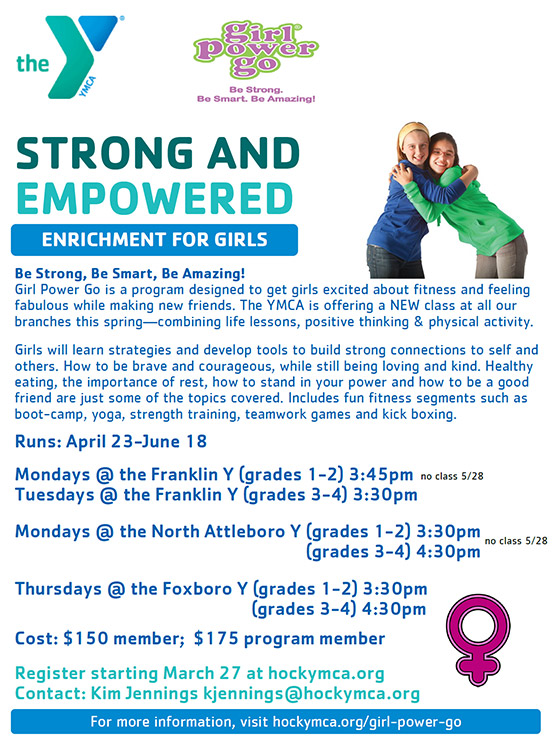 The Hockomock YMCA and Girl Power Go Unite to Empower more girls!
NEW CLASSES coming the week of February 26th serving girls grades 1 through 6! Calling all Girls in Bellingham, Foxboro, Franklin and North Attleboro, we are coming to your town! We are over the moon excited to have classes starting in multiple locations and multiple towns in collaboration with the Hockomock YMCA. 6 and 7-week Girl Power Go sessions kick off right after winter break. Registration is open now! Check out the schedule and register through the branch in your area.
Bellingham at Memorial Middle School
130 Blackstone Street, Bellingham, MA
Monday afternoons, February 26th, March 5th, 12th, 19th, 26th, April 2nd and 9th.
Instructors, Erin Mahoney and Ann Masse
Grades 4th and 5th – 2:20 to 3:05pm
*We plan to run our GPG program for grades 6 & 7 in the next session
North Attleboro Hockomock YMCA Branch
Tuesday afternoons, February 27th, March 6th, 15th, 20th, 27th, April 3rd and 10th.
Instructors, Erin Mahoney and Emily Goodwin
Class 1 - Grades 1 and 2 - 3:30 to 4:30pm
Class 2 – Grades 3 and 4 - 4:30 to 5:30pm
Franklin Hockomock YMCA Branch
Monday afternoons, February 26th, March 5th, 12th, 19th, 26th, April 2nd and 9th.
Instructors, Erin Mahoney and Ann Masse
Grades 1-3 - 3:45 to 4:45pm

Tuesday afternoons, February 27th, March 6th, 15th, 20th, 27th, April 3rd and 10th.
Instructor, Kelly Kielty
Grades 4, 5 and 6 – 3:30 to 4:30pm
Foxboro Hockomock YMCA Branch
Thursday afternoons, March 1st, 8th, 15th, 29th, April 5th and 12th.
Instructors, Erin Mahoney and Jessica Casasanta
Grades 1 and 2 – 3:30 to 4:30pm
Grades 3 and 4 – 4:30 to 5:30pm